Four Loko: One Man's Experience
Four Loko is named after its four main ingredients: Alcohol, Caffeine, Guarine and Taurine.** That is pretty much all you need to know about it.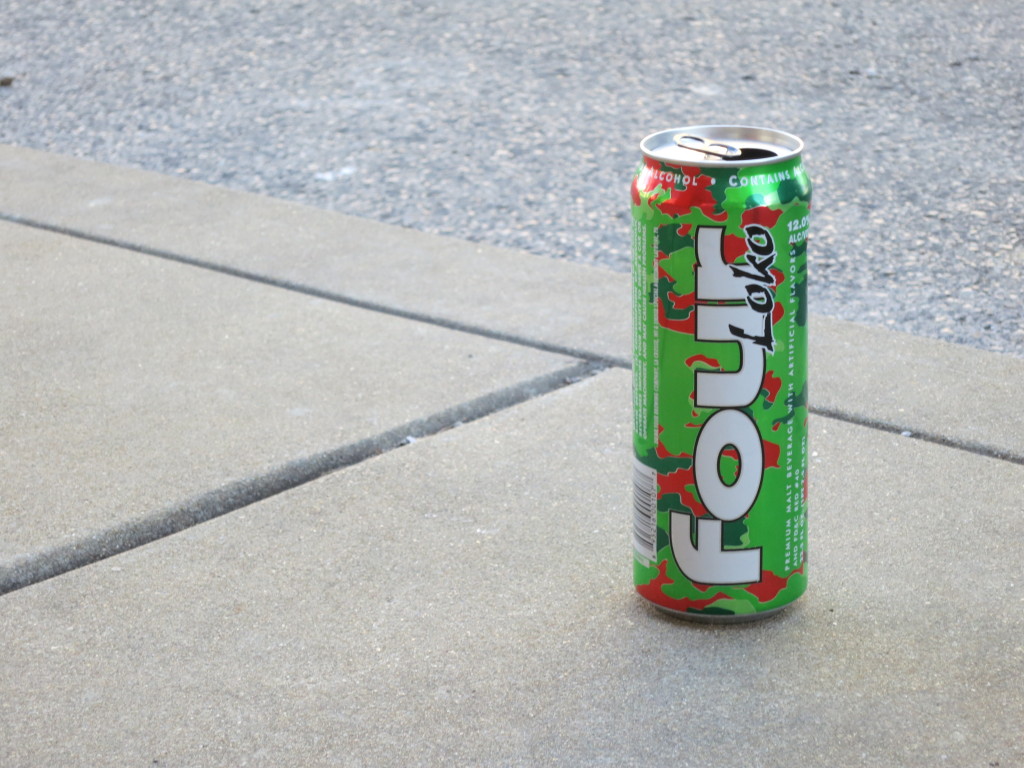 I decided to take up the challenge as someone who had never drank one before. I was somewhat prepared. I drink a Monster energy drink about once a week. I've slurped down Joose and Sparkz, and I've dated a Mexican girl so I've had my lion's share of tequila and other booze. My stomach and liver are a bit like abused girlfriends and a little more from a Four Loko couldn't be too bad. So with some difficulty I found a Four Loko at this moment and beginning to drink it down.
First Sip: I've put bad food and liquids in my body before. In Turkey I was surrounded by old relatives who equate refusing food with throwing a javelin into the family dog. So I was forced to chew and swallow a cheese-filled mushroom which tried its hardest to come back up. I've drunk rail white rum shots and warm Keystone Light. I've had Spinach flavored energy drinks which looked, and tasted like the Incredible Hulk's feces. Yet Four Loko beat them all. The typical energy drink flavor is there but so is this dirty, murky taste that I cannot compare to anything. It's like drinking death. The hardest part is that the sips don't get much easier and it's twelve ounces.
One Fourth Down: the alcohol hits first. It takes a lot to usher me from the waiting room of buzzed to the realm of drunk. However, I get generally buzzed pretty quick and Four Loko is no exception. Tingling toes, head rush, and I can feel my face flush like I'm sixteen at a house party again except I'm twenty five typing and listening to Daft Punk.
Half Down: No energy yet, but getting pretty woozy. It feels as if the roof is collapsing on my head. Getting out of my chair would present a challenge. Maybe a glass of water would help….no….must complete the assignment without assistance. Pure Four Loko and nothing else. Typing short sentences is beginning to turn into a fast-paced game of Tetris against a nimble-fingered teenager. Spellcheck isn't happy with me.
Three-Fourths Down: Feelings of existentialism are seeping in. Notably, "what am I doing with my life" and, "why in God's name am I doing this?" Drunkenness is almost complete, yet it's a sluggish, sloppy, uncomfortable kind. I'm a thin guy yet now I feel like a blob of fat oozing down off my chair. The idea of going to the bar or doing anything physical is absurd.
Finished: Full energy rush. It doesn't arrive gently but pops me in the face with a ring-bedazzled fist. Fingers twitching. Foot tap dancing. I grab my guitar but it's like being set back to grade school, and not in a cute way. None of the notes are hitting right. Crap. I grab my bass. Same result. The adrenaline is only getting worse. I can barely type so I'm going to try and run it off.
Back from run: I ran like grease lightning for about a hundred feet and then started sweating bullets and almost hurled. Alcohol and caffeine are fighting each other like titans for control of my body. Now I try to pick up the guitar again but I my fingers are moving too fast and too drunkenly to do anything. I go on Netflix but I keep changing movies. I try watching the new season of Arrested Development but then I descend into post-whiskey despair when I remember how much I detest the new season. I flip of the screen. Screw you Mitchell Hurwitz. I'm angry now. I'm not thief, but the urge to steal something runs strong. The "high" right now is like a giant tease. I'm too sped up to relax but I'm too drunk to do anything productive with the energy. I decide on a quick set of pushups and then a few episodes of That 70's Show.
The Aftermath: OW myheadmyheadmyheadmyheadmyheadmyheadmyheadmyhead
** Editor's note: Four Loko began producing the reformulated version of Four Loko on November 18, 2010, removing caffeine, guarana, and taurine.  No shipments of our products containing caffeine from Phusion's production facilities were made after November 17, 2010.  The FDA commended Four Loko on November 24, 2010, for their decision to voluntarily reformulate their products.